GreenCobra™ LED Street Light
GC1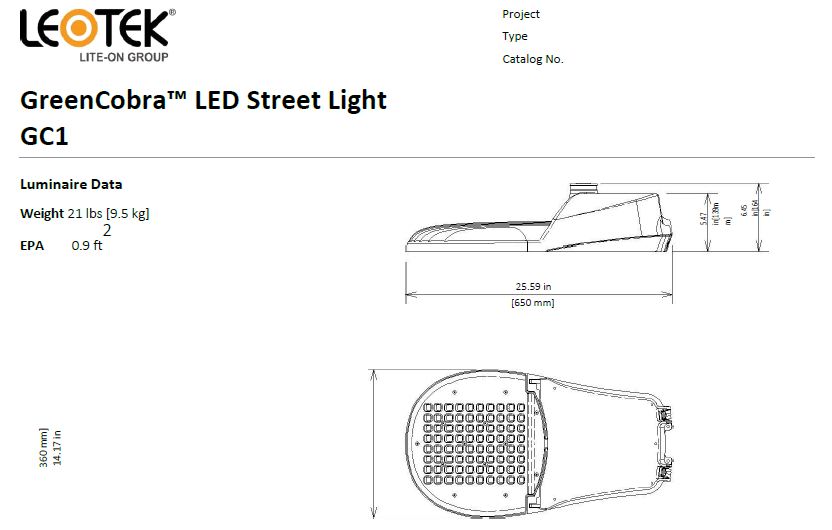 Ordering Information
Sample Catalog No. GC1 60F MV NW 2 GY 350 BSK RPB FDC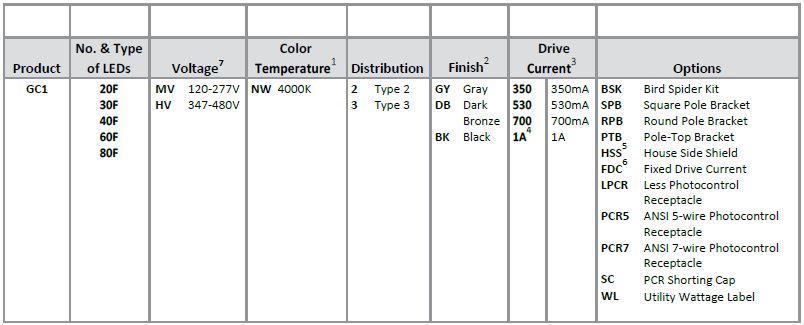 Notes:
1 Nominal 4000K standard, consult factory for other color temperatures.
2 Gray, Black and Dark Bronze standard, consult factory for other finishes.
3 Factory set drive current, field adjustable standard. Refer to performance data on page 2.
4 1A drive current only available with 40F.
5 Flush mounted house side shield factory installed. Shield cuts light off at 1/2 mounting height behind luminaire.
6 Non-field adjustable, fixed drive current.
7 MV is DLC qualified. HV is DLC qualified on request, consult factory.

Luminaire Specifications
Housing
Die cast aluminum housing with universal four-bolt slip fitter mounts to 1-1/4" to 2" (1-5/8" to 2-3/8" O.D.) diameter mast arm. Meets 3G vibration per ANSI C136. Leveling adjustment from +10⁰ to -5⁰ and integral bubble level standard. Electrical components are accessed without tools and are mounted on removable power door. Power door features quick electrical disconnects to terminal block and LED board.
Light Emitting Diodes
Hi-flux/Hi-power white LEDs produce a minimum of 95% of initial intensity at 100,000 hours of life. LEDs are tested in accordance with IES LM-80 testing procedures. Mean correlated color temperature of 4000K (standard) and 70 minimum CRI. LEDs are 100% mercury and lead free.
Optical Systems
Micro-lens systems produce IESNA Type 2 or Type 3 distributions. Luminaire produces 0% total lumens above 90⁰ (BUG Rating, U=0).
Electrical
Power supply drive current is field adjustable (350mA, 530mA or 700mA for the 700mA power supply or 530mA, 700mA or 1A for the 1A power supply). Power supply features a minimum power factor of .90 and < 20% Total Harmonic Distortion (THD). EMC meets or exceeds FCC CFR Part 15. Transient voltage complies with ANSI C62.41 Cat. A. Integral surge protector is tested per ANSI/IEEE C62.45 procedures based on ANSI/IEEE C62.41.2 definitions for standard and optional waveforms for Location Category C High. Photocontrol receptacle is standard, ANSI C136.41 5-wire (PCR5) or 7-wire (PCR7) dimming receptacle optional. Standard and optional photocontrol receptacles have tool-less rotatable base. Photocontrol or control module is provided by others. Power Supply is 0-10V dimmable standard with PCR5 or PCR7 option.
Finish
Housing receives a fade and abrasion resistant, epoxy polyester powder coat.
Listings/Ratings/Labels
Luminaires are UL listed for use in wet locations in the United States and Canada. Optical systems maintain an IP66 rating. DesignLights Consortium™ qualified product. Luminaire is qualified to operate at ambient temperatures of -40°C to 40°C. Assembled in the U.S.A
Photometry
Luminaires are photometrically tested by certified independent testing laboratories in accordance with IES LM-79 testing procedures.
Warranty
10-year Limited Warranty is standard on luminaire and components.
Performance Data
All data nominal, consult factory for IES files or LM-79 reports.
Notes:
1 Nominal lumens. Normal tolerance ± 10% due to factors including distribution type, LED bin variance, and ambient temperatures.